What's it like to live in Fairmount?
Playing host to Philadelphia's impressive Museum District, Fairmount falls right between Ben Franklin Parkway and Girard Avenue, stretching from Broad Street to the Schuylkill River. The little streets and big trees make for a super cozy and comfortable vibe that makes you want to live in Fairmount indefinitely.
Fairmount is a serene part of the city with beautiful vintage homes, lots of open green, and great little restaurants. Known for making you forget you're in the city, this quiet neighborhood provides a sense of calm and peace… unless you're at the Eastern State Penitentiary.
ART & MUSEUMS
You already know how awesome the art in Philly is, and Fairmount is no exception to that very important rule. With tons of murals and our biggest and best museums, this neighborhood is the place to be to see some one-of-a-kind artwork, whether it be on a canvas or on the street.
Common Threads by Mural Arts located at Broad and Spring Garden Sts
Located on the side of Kite & Key at 1836 Callowhill St
The iconic Philadelphia Museum of Art after the "Bomb Cyclone" of 2018
The Barnes Museum located on the Ben Franklin Parkway and Callowhill Sts
Common Threads: This massive, colorful mural right on Broad and Spring Garden is on a refurbished building that is now home to the new Mural Lofts, with the tagline "live in a landmark." The stunning mural, "Common Threads: Tribute to Philadelphia's Youth," was done by nationally acclaimed artist, Meg Saligman. As one of many iconic staples of our city's Mural Arts Program, this is one of the most recognizable pieces in Philly, and represents our city's diversity and inclusivity.
This tiny mural hidden on the side of neighborhood bar Kite & Key is often overlooked by many, but admired and appreciated by the locals. The mural is an ode to Ben Franklin (with a kite, and a key), and also features a character from the popular video game Fallout, which gives the bar huge brownie points with the nerds around town (read: me and my friends).
Philadelphia Museum of Art – This one is obvious, but it cannot be overlooked. One of our most iconic tourist destinations, home to our famous Rocky statue and where thousands of people go to have asthma attacks trying to run up the front steps, is our beloved Philadelphia Museum of Art (PMA). This cathedral of globally sourced art is very easy to get lost in, mentally, emotionally, and physically. With limited-run exhibitions and permanent installations and galleries, it is impossible to see and experience everything in this museum in a single day.
The Barnes Foundation – Dr. Albert Barnes opened his personal art collection to the public in his beautiful 12-acre arboretum in Merion, PA in the 1920s. In 2012, to the dismay of Merion residents and the extreme hype of Philadelphia residents, the collection was transported to a brand new state-of-the-art building right on 20th and Callowhill. This stunning, expansive gallery has two floors of meticulously laid out rooms, each one perfectly symmetrical, with the pieces of the same size and style mirroring each other, and intricate metalwork hanging on the walls between the paintings. The most notable aspect of this beautiful collection is the sheer volume of Auguste Renoir paintings that Dr. Barnes acquired throughout his lifetime: a whopping 181 pieces. There is also a plethora of work from other famous artists of the early 1900s like Cezanne, Matisse, and Picasso. In my personal experience, this is the perfect museum to visit on your own for a culturally-driven treat yo'self day.
Rodin Museum – Walk through the Gates of Hell into this small annex of PMA on the Parkway completely dedicated to the works of Auguste Rodin. Come to the only exclusive Rodin Museum outside of France to see the Thinker up close and recreate the pose next to him for a hilarious Instagram post. Rodin's dark sculptures and statues provide an eerie vibe to the beautiful building and make for an awesome quiet museum day.
PARKS
Fairmount specializes in green space, if you ask me. I've already mentioned how good this part of the city is at making you forget you're even in a city, but it's really true. There are tons of big, old trees on all of the little residential streets, and lots of sweet little spots for a stroll or a picnic.
Fairmount – This is a no-brainer, but we obviously can't talk about Fairmount without talking about, well, Fairmount. This massive 9200-acre park spanning from lovely Kelly Drive past Strawberry Mansion is the perfect place to escape the busy city without actually leaving. Go for a hike, get lost in the woods, have a picnic, then follow the Schuylkill River Trail to find your way back home.
Green Street Dog Park – This gorgeous privately-owned park is the cutest little place for all the Fairmount fur-babies to make some friends. The membership-based green space has replaced the abandoned lot that was there for many years, and is now a beautiful and secure neighborhood park with separate spaces for large dogs and small dogs.
Paines Skatepark – This awesome skatepark next to PMA opened a few years ago. Paines often hosts some pretty talented kids on wheels, so even if you don't skate, it's worth checking out for the free show.
SCHOOLS
Masterman School – Masterman is a multicultural community of "academically talented" students from grades 5 through 12. This prestigious institute on Spring Garden turns today's clever kids into tomorrow's Ivy Leaguers with their rigorous curriculum and impressive academic resources. The school has an intense application process, but does provide a free education to those who are accepted. This award-winning magnet school will definitely challenge your young ones and properly prepare them for higher education.
Hallahan Catholic Girls' High School – Hallahan is an acclaimed all-girls Catholic school in the city dedicated to developing the "intellectual, spiritual, and emotional potential" of their students. With a diverse Catholic community, the school specializes in the cultivation of leadership in their students and teaches them the proper skills to become a productive member of society.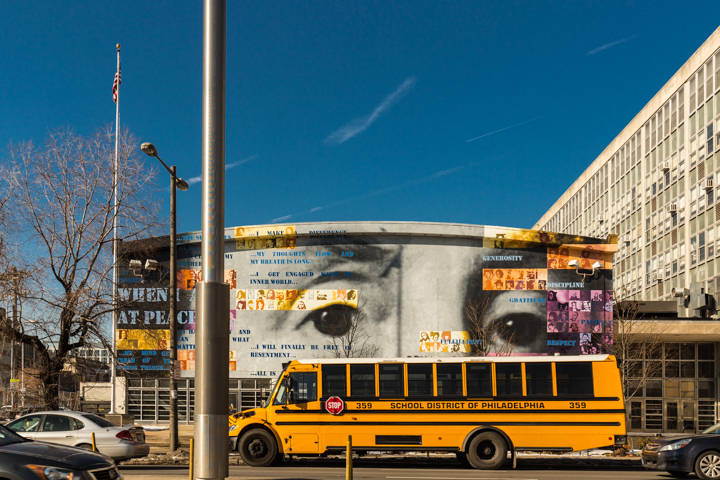 Ben Franklin High School – This public school right on Broad and Spring Garden is a "unified learning community" committed to enabling students to become socially responsible individuals in the 21st century. Their primary goal is to prepare and inspire their students to advance their education by attending college after graduation. (It also has a huge mural of its own along the side of the building.)
Waring School – This K-8 school on 18th and Green has a mission to "cultivate the intellect, foster the character, and ignite the imagination" of their students. This diverse grade school is committed to maintaining their "power of three:" take care of yourself, take care of others, and take care of Waring. They hold an emphasis on self and mutual respect and teach values of integrity and accountability.
FOOD + DRINK
Of course, the most important category in any neighborhood is food. This part of the city is pretty diverse and multicultural, so you can find pretty much anything you're craving without leaving the area.
La Calaca Feliz – This bright spot has an awesome rustic vibe and the perfect contemporary Mexican menu. They pair traditional ingredients and recipes with modern cooking techniques and make some of the best guacamole you'll find this far from the equator. With a cute outdoor space tucked away in the back and a fun, colorful decor complete with painted skulls hanging on the walls, this living and breathing shrine to Dia De Los Muertos (the Day of the Dead) is a great Fairmount staple for some culturally authentic tacos and a pitcher of sangria.
Zorba's Tavern – This "little corner of Greece" has been parked right on Fairmount for 20 years, and it is a tzatziki pita dreamland. Full of love and tradition, the Greek expat owners are dedicated to giving us Americans a true taste of their homeland. Pop quiz: how do you pronounce "gyro"? (No seriously, I've been to Greece and I'm still not even sure. Someone tell me.)
Sabrina's Callowhill – Sabrina's is such a popular breakfast spot that they've basically had no choice but to open five of them around the city and South Jersey. The line is pretty much always out the door (at every location), and I think it's safe to say that it's one of the only places people in Philly will willingly wait an hour for a table at. With massive portions (which are very reasonably priced) and a cozy, homey vibe, Sabrina's really treats their customers like family. My personal recommendation? Their classic Stuffed Challah French Toast. It is as ridiculous as it sounds, and you will never want to eat again.
Umai Umai – This BYO umami dreamland is a total hotspot for sushi lovers like myself. Since its opening in 2007, this restaurant has been serving up some super unique dishes and "designer rolls." With an upscale but cozy feel, Umai Umai is as fresh as the fish. They are only open for dinner, so you might want to make a reservation.
EVENTS
The Parkway is home to tons of events, ranging from fireworks and a huge concert at the Art Museum on the Fourth of July, to the Women's Marches in January 2017 and 2018. It's even where thousands of people came to meet the Pope when he shut the city down in September 2015.
Made in America – This massive Labor Day festival shuts down the entire Parkway (and basically the whole city). It makes the Fourth of July concert look like a tiny basement show. Usually including performances from the likes of Beyonce (and Beyonce's husband), thousands of people turn out for these two days of live music, food, and drinks to round out the summer. Residents of the area can usually get a free show out of it just by opening their windows.
Most recently, the Parkway hosted our incomprehensibly massive victory celebration parade after our beloved Eagles kicked Patriot butt and won the Super Bowl for the first time. Tens of thousands of fans clad head-to-toe in green stormed the streets to party, drink, cheer, and spread the love in honor of the Birds.
& MORE…
Whole Foods – This massive new Whole Foods opened in a state-of-the-art building in late 2016, and makes its previous home (now home to a brand new Target) look miniscule. With a Federal Donuts inside, along with Goldie, Izakaya, and Michael Solomonov's Dizengoff, you can get three square meals here without buying any actual groceries. With a little coffee shop downstairs too, Whole Foods has transformed into a food court and cafe all in one.
Eastern State Penitentiary – This creepy prison, once home to the infamous Al Capone, is a historical landmark and museum that is not for the faint-hearted. Walk through the tunnels and see how the prisoners lived, feel the presence of the ghosts inevitably haunting the fortress. Come back around Halloween if you're even braver for one of the scariest and most popular haunted houses in the city. Wear underwear you don't care about.
Franklin Institute – This expansive science museum founded in honor of our municipal treasure Mr. Ben Franklin, FI is one of the oldest and biggest centers dedicated to science education and development. With a massive planetarium, varying exhibits, an IMAX theater, and frequent events and programs for both kids and adults, you will never run out of awesome stuff to see and do here. Every Philly kid will tell you to be sure you climb through the giant anatomically-correct heart inside — it's a right of passage.
Free Library of Philadelphia – The main branch of our library on the Parkway can easily be mistaken for the Art Museum — that's how big and beautiful it is. With several floors jam-packed with more books than you can imagine, you can easily spend a whole day in here. With incredible resources at your fingertips, regularly scheduled programs like ESL classes and email basics, health fairs and craft groups, book signings and book readings, there will always be something cool going on at the library.
Want to be part of this culture-rich neighborhood? Search our Fairmount listings – both sales and rentals.